Despera



Genre

Steampunk, Adventure, Science fiction

Writer(s)

Illustrator

Light Novel original run

July 2009 – July 2010
Despera (ですぺら) is a planned anime series, written by Chiaki J. Konaka and featuring character designs by Yoshitoshi ABe. It was announced that the project reunited many of the staff who worked on Serial Experiments Lain.
It was set to be directed by Ryūtarō Nakamura but his death in 2013 forced the team to find a new director.
The anime was pitched as a psychological thriller and a spiritual sequel to Serial Experiments Lain.
Etymology
[
]
The title Despera derives from a poem of the same title by Japanese Dadaist poet Jun Tsuji. Though the title of Tsuji's poem comes from the word "despair" or "desperation". 
The official blog states that it can also imply the Spanish word desperado. 

Story
[
]
NOTICE: Chiaki J. Konaka, on April 2021, [1] revealed that most of the original plot pitched in 2008 has been reworked giving Despera a completely different setting and story. What follows may be outdated.
In the Taisho era, when the brilliant European culture permeated and when the civil rights movement, the women's social advancement began, a footsteps that rushed toward destruction began to echo, in the chaotic Asakusa Jūnikai. An echo depicting a man and a girl looking into the future. What a strange story that is "Despera".
The sci-fi alternative period story is set in Tokyo during the Taishō era in 1922, one year before the 1923 Great Kantō earthquake.
The story centers around a 12-year-old girl named Ain, who often builds devices despite the lack of scientific background for them, one of her ongoing works is a mysterious robot which she refers to as Father. Ain also created computer monitors able to predict the future, her associate Takeshita, a 30 year-old man, sells these "prophecies", to the Japanese military and the aristocracy to fund for Ain's inventions.
Light novel
[
]
A graphic novel serialization relating to the anime is being published in Japanese magazine Animage, beginning from its July 2009 issue. The serialization was re-published as its own book in April 28, 2011  by Tokuma Shoten [2] as a Roman Album.
Development
[
]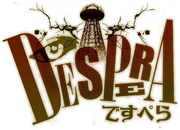 The project started in 2003 [3].
During Sakura-Con 2009 held on April at Seattle, Washington, famed character designer Yoshitoshi ABe first revealed the project. He announced that he will be developing a new anime. He also announced that he will be working with many of the staff who worked on Serial Experiments Lain [4]. Details on the storyline were scarce as ABe stated that the anime has not been officially unveiled in Japan, but revealed that it will be set during Japan's Taishō era.
In his official website, Chiaki J. Konaka has announced a graphic novel serialization in Japanese magazine Animage which will last for one year, with the story penned by him and artwork provided by ABe.
Shortly after the announcement, a blog dedicated to Despera was created. Between August 2009 and July 2010, ABe, Nakamura and Konaka shared their various inspirations from the Taisho era.
Production was placed on hold due to Nakamura's health issues, allegedly in 2011 [5]. It was unknown whether development would continue following his death in June 2013 [6] , until ABe announced that production would continue at Overload 2014.
In January 2015, Yoshitoshi ABe announced that the project was continuing with a new director after Nakamura's death [7]. They later stated, in 2018, the reason Despera is in development hell isn't due to the lack of funds, but because of the current state of the anime industry [8].
In April 2021, Chiaki J. Konaka announced that they found a new producer with whom they've never worked before [9] but could not say more about the project because of it. Konaka was saying on his twitter the month before, May 2021, that the production funding scheme was 80% completed, and that the core staff had done a lot of work up until last year. He stated that with the project restart, he does not expect to make a new announcement until 2022. [10]
In the same interview, Chiaki revealed that most of the original plot pitched in 2008 has been reworked giving Despera a completely different setting and story [11]. "Now that it's 2021, it just doesn't feel right to focus only on Asakusa, Japan. The producer was completely taken by surprise when he looked over my proposal as it was not remotely related to the original story. I feel bad for those who loves the original story, but it will be a new work".
Serial Experiment Lain
[
]
Despite Ryūtarō Nakamura's death, Despera is the second time all the three main creators of psychological thriller anime Serial Experiments Lain collaborated once again for a new project, and it is Nakamura and Konaka's third collaboration after their work on Ghost Hound.
The original pitch presented the project as a spiritual sequel to Serial Experiment Lain, there is similarities to be seen as the respective main characters, Ain and Lain, share the same physical traits. There is also in both of the anime series a strong theme about how advanced technologies affect society to a near surreal level.
Since it was announced that the project has been completely reworked, it's unknown if Despera would be linked to Serial Experiment Lain or if Ain is still the main character.
Trivia
[
]
During the Sakura-Co in 2009, Despera was first announced as Desperant (デスペラント). In his official blog the very next day, ABe clarified that the title of the anime is called Despera and not the one he stated earlier, due to a speaking error during the convention announcement. [12]
As inspirations in Despera's development, ABe cited on the Despera Blog, The Demon of the Lonely Isle a detective novel by Edogawa Ranpo published in 1930. This book helped him with expressions and illustration of the Taisho era. He also cited books about the particular writing style and women fashion of the Taisho era. [13]
Link
[
]
Citations
[
]