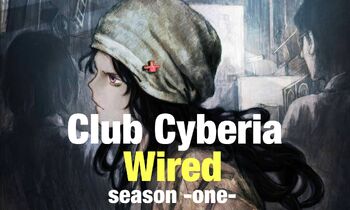 Club Cyberia Wired, #CCW_lain, is a weekly livestream on Youtube hosted by DJ Wasei "JJ" Chikada on his Youtube Channel. It's a music streaming shows inspired by Serial Experiments Lain. The first live started on February 24th, 2021 and from that new lives started every Wednesday at 10 p.m. JST. [1].
The name is a direct reference to Club Cyberia, the night club in the tv shows Serial Experiment Lain.

Content
[
]
Club Cyberia Wired is mainly a music streaming shows with mix provided by DJ Wasei "JJ" Chikada with songs from the Cyberia Layer albums and other tunes.
Club Cyberia quickly developed its content by talking about Serial Lain Experiment fan community, merchandising, events sharing artworks from fans during the live.
They also welcomed and interviewed members of Serial Experiments Lain staff, as Kaori Shimizu on the 3rd episode [2] and Chiaki J. Konaka on the 7th one [3].
Link
[
]
Citations
[
]